Important: our resin grilles are for wall and ceiling application and should never be used on the floor, your purchase serves as an acceptance to these terms. Steel grilles can be used on floor.
Return Policy
We take exchanges and issue returns only on unfinished (paint grade) grilles and registers within 14 days. No returns/exchanges on finished (white,black,oil rubbed bronze, silver and brass) grilles or registers, no returns/exchanges on LazyVents (regardless if they are unfinished or not) or Air Diverters or steel grilles.
We are committed to providing our customers total satisfaction. Every time, guaranteed. Contact us at sales@majesticventcovers.com or call (888)797-3808 9am-5pm PST. Orders may be subject to a 15% restocking fee and return shipping is not refundable. If you would like to exchange for a different size or pattern (only on unpainted grilles and registers), please ship back and specify the correct product, include a phone number for any additional shipping charges.
Please ship back unpainted grilles/registers to:
Attn: Returns
Majestic Vent Covers
19011 Parthenia St. Unit E
Northridge CA 91324
Frequently Asked Questions
NOTICE TO OUR CANADIAN CUSTOMERS: THERE MAY BE ADDITIONAL CUSTOM DUTIES, TAXES OR BROKERAGE FEES YOU ARE RESPONSIBLE FOR.
What does unfinished mean?
Unfinished (paint grade) means that the grilles are ready to be painted. They will come in an off white color. We recommend spray painting though any other method would work.
How do you finish your grilles?
We use a paint sprayer to add color to your grilles. If you order your grille with a finish the paint will be applied to your grille once your order is processed. It's basically a spray paint that you can do yourself with similar results by ordering the paint grade version of the grille! We recommend a spray paint since the grilles have a lot of detail and crevices to them, it's easy and fast but, you can use any other method - roll on, staining, plating etc. Our suggested method for adding color to paint grade grille is to apply a primer for plastic and any spray paint of your choice, the ones intended for plastic work very well. Finished grilles do take longer as we need to make sure the color is set before shipping.
What kind of screws do I use?
Drywall screws will be provided with your order whether you get your grilles with or without mounting holes. If you purchase a grille with a finish, we'll send you matching colored screws, otherwise we'll send you black drywall screws. You should plan on painting the screws the same color as the grille for a clean look.
What do you mean when it says with mounting holes or without mounting holes?
The reference to holes refers to the screw holes for mounting the grille. When installing a grille on to a wall or ceiling you need screw holes. (Resin grilles should not be used for the floor). If you get it without mounting holes, you should use a 23 gauge nail gun to install grilles or your own screws. A benefit to having us pre-drill the holes is that they will be countersunk and will provide a clean looking screw hole. Otherwise, you may drill right through the grille. Our screw holes are generally placed where necessary based on design and size. The larger the grille, the more screw holes. We do this so the grille sits as flat as possible on your wall or ceiling. If there is a gap between the wall/ceiling and grille you should use a caulking to fill the gap. Screws are the suggested and safest way to ensure a strong application.
If the inside measurement says 12" x 8" do I cut my hole 12" x 8"?
Yes. If the inside measurement on the grille you're looking at is listed as 12" x 8" you can cut your hole 12" x 8" and the lip will fit into your opening. You should round up or down to the nearest even number as well. So if your opening is measuring 7 ¾" x 5 ¾" you should order a 8" x 6" grille. This works with grilles that are flat on the back, if you order a grille with a lip on the back, please increase the size of your opening. Please remember that we go by inside dimensions, the total size of the grille will be approximately 2" larger due to the 1" frame going all the way around.
What material are these made of?
All our products are made of a high quality polyurethane. It is a sturdy yet light material that is both heat and moisture resistant. Our resin material is specifically formulated for central heating and air. Resin grilles were originally created to substitute rusting metal and splintered wood grilles. Steel grilles are made of a strong laser cut steel.
How long will it take to receive my order? Can I get expedited shipping and how much will it cost?
Shipping is free. In the U.S. orders will ship UPS ground or USPS Priority and arrive within three-four weeks. Expedited deliveries can also be arranged for an additional fee,cost depends on shipping weight and location, if you need your order right away please contact us. We have hundreds of grilles in stock, so you may receive your order sooner. Lazyvents, registers and painted grilles may take around 4 weeks.
For Canadian shipments we will ship USPS, please allow 4-6 weeks to receive your order.
Are your grilles flat? What is the thickness of your grilles?
The standard grille thickness is 1/2". All flat frame grilles (Caspian,Square,Linear,Heritage Flat, Cosmo) have a 1/4" lip on the back that needs to be inset, while our decorative frame grilles (Ribbon,Iron Ring and Heritage Decorative) have a flat back and will go over your opening not in it, they have no inset.
Do you make custom sizes?
Yes. Any size, any shape, any pattern. Grilles can also be supplied in both concave and convex profiles.
Can I get a trade discount?
We serve all industries; architects, interior designers, AC contractors, builders,developers etc. Email us with your company name for the promo code.
Can your grilles be used as foundation vents?
Yes, our grilles can be used outside (are grilles are not for floor use). Grilles for exterior applications need to be painted with an exterior paint. Our products are heat and moisture resistant.
Can I get dampers separately or as an addition?
Yes, though we prefer to install the dampers to the grilles ourselves, if needed we can send you just the damper and you can attach it to the back of the grille, or you can send the grille to us and we'll attach the damper on the back of the grille for you.
How to measure and install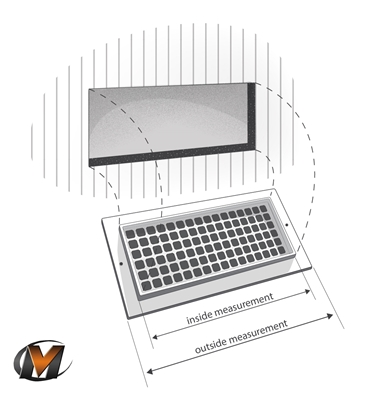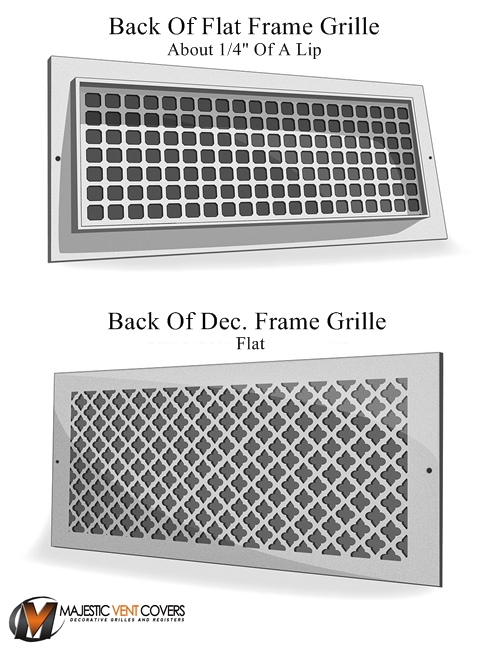 LIMITED LIFETIME WARRANTY:
Majestic Vent Covers warrants all grilles to be free of defects in material and workmanship for life from the date of purchase. Warranty is non-transferable and proof of purchase is required. We have undertaken significant testing with our product to ensure it withstands the rigorous HVAC environment. We are not responsible for normal aging, including daily wear and tear or any result of exposure to household chemicals or careless acts. Any damage caused by mishandling, improper installation or any other events outside our control (including use other than products intended purpose - central ac and heat for wall and ceiling) will not be covered.
Majestic Vent Covers shall not be liable for any incidental or consequential damages including, without limitation, indirect and special damages resulting from defects in our products. We are not liable for resin grilles used on floor applications and recommend against it. Products you paint yourself are not covered under warranty.
Our goal is to manufacture and supply a quality product, and build a satisfied repeat customer base. If you are not completely satisfied with the quality of your purchase please contact us immediately at (888)797-3808 so that we can replace the item upon its return.